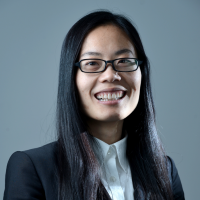 Ru Xie
Supervisor – Americas Customer & Application Development, Product Solutions Technology
,
ExxonMobil, USA
United States
Ru Xie, a Senior Planning Advisor for Technology Portfolio at ExxonMobil, has held various positions throughout her 5-year tenure with the company, including R&D, customer and application development, and an overseas assignment. Based in Houston, Texas, Ru has honed her leadership and management skills while gaining global business experience.
Ru is an active volunteer with the World Petroleum Council (WPC), having joined the YP program committee in 2021. She has contributed significantly as a member of the US YPs/US National Committee and editor for the YP Magazine, engaging young professionals and raising WPC's profile.
Ru earned her B.Sc. in Chemical Engineering from the City College of New York in 2013 and her Ph.D. from the University of Delaware in 2018, with a National Science Foundation Graduate Fellowship. She spent two years as a Guest Researcher at the National Institute of Standards and Technology Center for Neutron Research. Ru completed her MBA at the University of Texas at Austin in 2022.