The M-CRACK System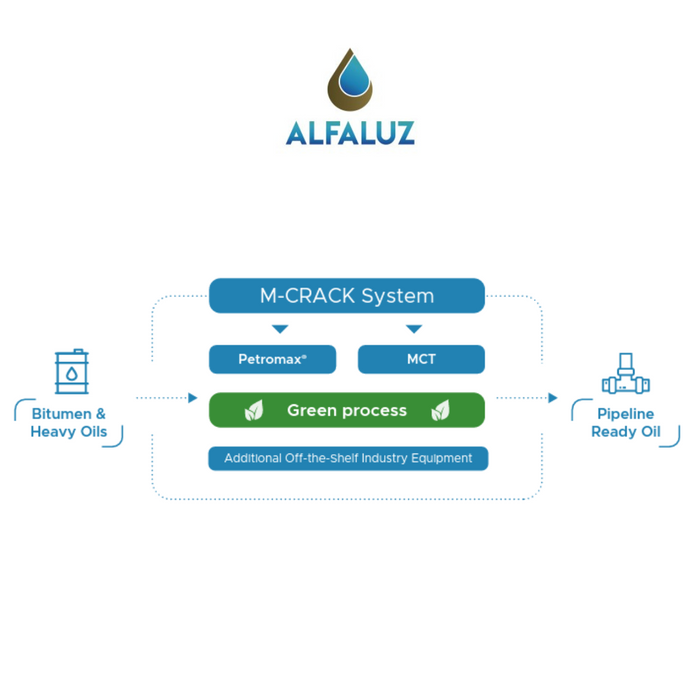 We're an innovative engineering and manufacturing company with a disruptive technology bringing economical and green solutions to the production and commercialization of bitumen and heavy oil.
Over the course of the past few years, we have perfected our proprietary M-CRACK. This system instantaneously breaks stable emulsions, reduces or eliminates H2S content, separates asphaltenes, sulfur, solids and other contaminants, resulting in a dramatic reduction of viscosity, density and acidity without using diluents, heat or other chemicals. It's a simple system, with low Capex and Opex, that produces pipeline-ready oil.
Designed to maximize the many benefits of Petromax®, our green "plug and play" M-CRACK system is installed directly in line with the operator's production process, with little or no change in equipment or infrastructure. Bitumen and heavy oils, combined with Petromax® and water at ambient temperature, decrease in density and viscosity as they move through the system.
The M-CRACK process consists of the combination of special purpose equipment and our proprietary chemical Petromax® working together. The M-CRACK process reverses the charge of the particles in the crude oil emulsion. The resulting repulsion between oil, solids and heavy contaminants instantaneously breaks the water/oil and oil/water emulsion, leaving the solids free of oil, eliminating the H2S and separating the oil. The remaining salts and heavy metals then move to the water phase, and the remaining solids - including resins, asphaltenes, sulfur, crystalized paraffin, heavy metals and crystalized salt - are separated to a significant degree and drop out.
The three outputs of our three-step M-CRACK system are:
Clean water that is separated and recirculated within the M-CRACK system and the Central Processing Facility (CPF)
A lighter, more valuable and pipeline-ready commercial oil processed with negligible environmental impact
Cleaned solids